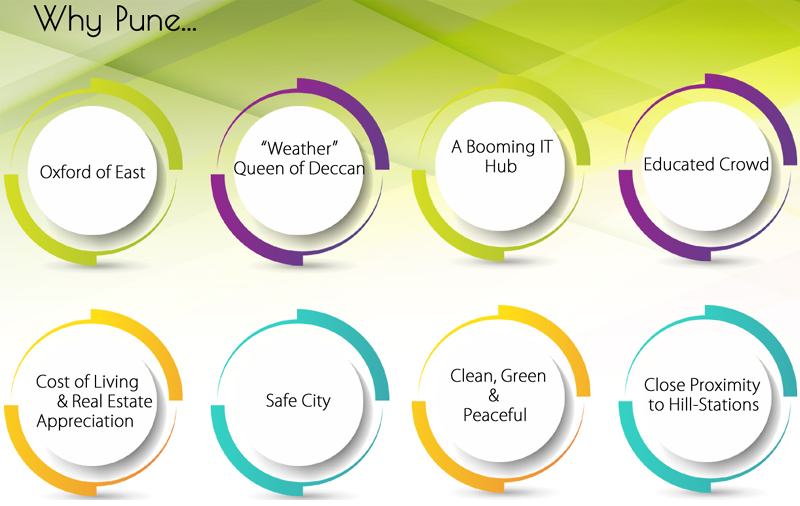 Why invest in Pune Real Estate
Why invest in Pune Real Estate and we will do the analysis here in this article. Pune is very well known as the "Queen of Deccan" owing to its abundant natural resources and scenic beauty. Located in western Maharashtra, it is well known for its historical and religious places. It has a rich culture associated with it and is popular worldwide for its education and research sector. The cosmopolitan city of Pune has emerged as one of the most favorable destinations for investing in real estates. With its popular education institutions, improved infrastructure, pleasant weather, charming localities and much more, the city is now a great and fantastic place to live in and that one more big reason Why invest in Pune Real Estate.
Increased employment opportunities are one of the many good reasons to invest in Pune. It is known as one of the best cities for education, academically oriented with four universities, more than 20 engineering colleges, more than two hundred other colleges and other nationally and internationally accredited institutions. Needless to mention, foreign institutes are now setting up their own institutes or tying up with the existing ones in Pune to establish a base in India. Not only an educational hub but also Pune is now a thriving commercial city with abundant employment opportunities especially in IT and ITes companies. Real estate in areas like Hinjewadi, Marunji Road, Kharadi, etc. are good options and have witnessed a positive trend with most of the giant companies such as Infosys, Wipro, Cognizant, Capgemini etc. located in the corridors of these areas. And as a matter of fact, most of the developments and growths are taking place in the western zone of the city. Under the Special Township Policy, many new residential projects have sprouted up in Pune. Earlier people have invested in Projects Like Blue Ridge and Megapolis and in these Properties, Investment people got big return by investing in Hinjewadi Pune. Now People are investing in projects like the Life Republic by Kolte Patil, Joyville by Shapoorji Pallonji, Godrej 24, Lodha Belmondo of Hinjewadi and Jade, Emirus, Rahul Arcus like projects in Baner and Balewadi and they will definitely see the Big return on investment in coming years.
Real estate in Pune is growing as quickly as the city itself! Parts of the city that were considered as the outskirts, a few years ago, are now thriving localities with new options for dining and shopping, cropping up very frequently. While the older parts of the city boast of beautiful old family homes, the newer areas are perfect for students, young professionals and families looking for flats in Pune. Investors are reaping generous rewards for intelligent plays in the city's growth pockets, and the city's boundaries are constantly expanding to bring in more such pockets. But a factor to watch out for is the illegal construction happening on the outskirts. Like any other property market, Pune will also not yield returns, if not intelligently pursued. Therefore investors need to plan and research properly before investing.
Another question that comes to an investor's mind Why invest in Pune Real Estate is what makes Pune such an attractive investment destination, in spite of the fact that Mumbai- India's legendary real estate par excellence is right next door. Well, despite their proximity to each other, Mumbai and Pune are two very different markets. Mumbai's legendary space demand has made property there, exorbitantly costly pushing more and more aspiring middle-income home buyers to the out fringes. Whereas Pune's residential property market has maintained its momentum even in a challenging economic environment. The middle- level managers based out of Mumbai can't afford to buy a second home in that city. Whereas, they can buy a decent property in a plush Pune neighborhood, in the same amount. Pune is an upmarket city with good education options, good weather and virtually no crime rate.  Many research agencies have confirmed that Pune has prevailed as one of the best performing residential real estate market over the past few years. Pune's developers are now actively discouraging the mass purchase of units to speculative investors so that the market retains its rationality.
More and more Puneris are now spurning the chaotic existence of inner city life and embracing the privileges of living in less congested areas. Baner, Wakad, Undri, Wagholi, and Dhanori are attracting serious demand from home buyers who have had enough of traffic snarls, unacceptable air and noise pollution. Developers in the above-mentioned areas follow the updated city planning blueprint, which ensures open spaces, green cover, active social and civic infrastructure and the wide road which means that they are in no danger of becoming clones of the inner city. Properties in Pune's brand new suburbs offer a healthy, less stressful and more fulfilling lifestyle. Be it shopping, recreational facilities, cafes and restaurants, most of the localities have access to all.
The real estate sector in this city is extremely flourishing. Many people look up to this city as a second home option due to its facilities and climate. Also, rapid industrialization and growth are driving the real estate sector in Pune. The city of Pune is ranked 7th for its industrial development and growing further rapidly. All transport such as road, rail, and air facilities are being spruced up. The Mumbai-Pune Expressways is a major success. A new metro and airport are being planned to aid the growing demand of this city.
One more reason to Why invest in Pune Real Estate is Pune is also very close to weekend destinations such as Khandala and Lonavla, which lie only about 65 km away. Also, safety is a very important factor and Pune has maintained its status as one of the safest destinations in India due to its low crime rates. With all these positives, Pune makes for a hot investment destination both for home buyers and real estate investors. Hence to conclude, a cosmopolitan city with a low crime rate and lovely weather, Pune is a comprehensive package for an investor's delight.
Key2Home.in is a Key place solution to all your property or Real Estate requirements, especially in Hinjewadi, Wakad, Baner, Bavdhan, Marunji & Warje localities in Pune and also in Nagpur. Be it 1BHK, 2BHK or 3BHK Flat, Bungalow, Villa, Row House, Guest House, for New Booking, Resale or Rent. Provide us with your contact details and specific requirements & Expectation you are looking at property and within 24 Hrs. we will contact you with Exclusive properties that match your requirement. Also, we will assign a dedicated associate who will help you throughout the deal until you get the perfect match for your Dream Home and one more reason to Why invest in Pune Real Estate.
The Vision of Key2Home.in is to help people find their Dream Home or Real Estate property. Our team will eliminate the most difficult part of searching right home in preferred locations for Buyers and suggest them the Reputed Builder with quality construction that will not just guarantee people to have Standard living but also better future property return value. Key2Home.in is to achieve the highest possible standards of the real estate market while establishing our agency as the premier and preferred real estate company in the Hinjewadi, West Pune and surrounding areas.
Article and analysis by- Ashika Ranjan
Call 7391883544 for more details
email – [email protected]
Visit our Featured property section here